For centuries the midsummer has been embodied within communities, connected to each person's wellbeing, the coming together of people and the seeding of agriculture. The day before was a day of preparation when people gathered flowers and plants to make bouquets and wreaths to be worn in the celebrations. The holiday was celebrated with dancing, singing, eating and drinking. One custom, still held in cultures such as Spain and Latvia, is to jump over bonfires to burn the old. In Latvia women wear long skirts and the smoke goes up to prepare for entering seeds, while the men jump to show their vitality.
I'm too old now to go into the woods with a man looking for special birds and come out fertilised, but what I would LOVE to do is recreate what has been so incredibly special to me while living in Latvia and Greece: the weaving of head wreaths.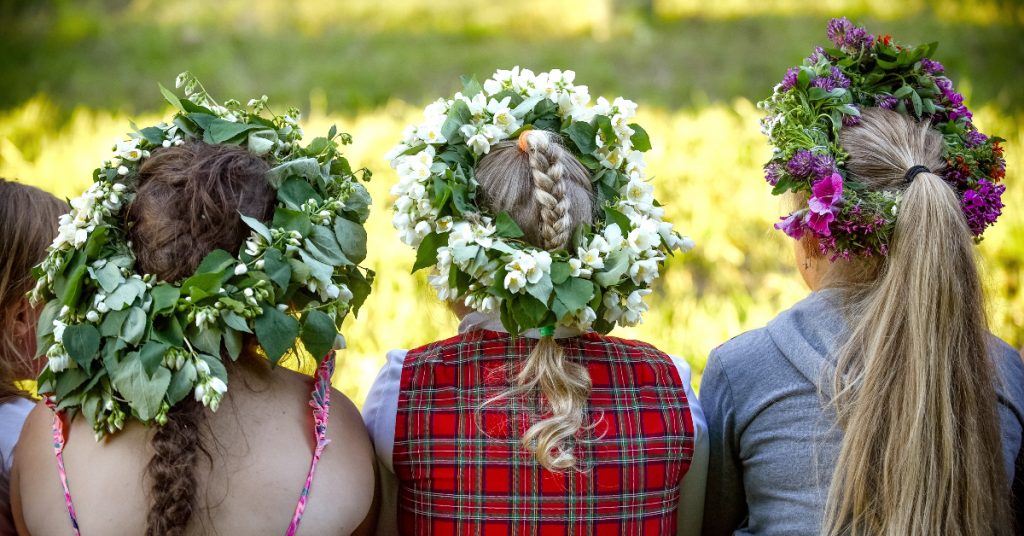 I invite you to come along to share this beautiful custom, somewhat lost on our island, to pick wild flowers and tree branches. We will learn what each tree offers in terms of health and vitality as we also learn to weave wreathes that you can wear or simply hang on your wall.
We will be picking flowers and making wreaths on Thursday 23rd June in the afternoon, 3.30pm in the fields around Mill Brow and Mellor Church for those who live in the Marple Bridge area.
Feel free to join for free. This is simply to remember, make friends and bring alive what is still. Send me an email julie.robinsong@gmail.com and I'll send you details of the meeting points.I'm expecting a little group of us to sit in a field and make the wreaths, chatting and being happy. If the weather is inclement there are other solutions.
I will be wearing, and I suggest to relive the experience of wearing long dresses or skirts (those are women, but I don't want to miss the men out either!) It is more than symbolic. To walk in the fields with flowing material brings out the deep nourishing power of the feminine. Also bring a bag to collect flowers in, or even a wicker basket. Plastic bags will also do if in a rush. There are no does or don'ts.